story by Alan Grant with Keith Giffen, art by Mick McMahon
4 issues, color
Vertigo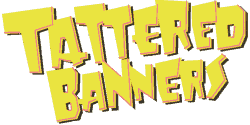 Alan Grant is best known these days as a Bat-writer, scripting the adventures of the Caped Crusader and his friends in Batman: Shadow of the Bat. Well, Tattered Banners is something a departure from that. In fact, about the only thing it has in common with the tales of the dark night detective is the setting in Gotham/New York.
It's the story of a discontented social worker who discovers one day that reality is changing around him, and no one seems to notice it but him. His name is Curtis Banner, which is the sort of clever "coincidence" with the name of the series that's usually reserved for forgettable television shows. I can buy clever names when used for obvious-but-unstated symbolism, as in Arthur Miller's salesman "Willy Loman" or the title character of "The Truman Show", but when you have to name your story after the character, or vice versa, that's not a good sign.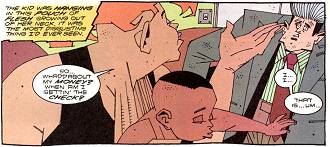 The series begins by explaining to us what's happening: one expanding universe is colliding with another, like galaxies in space. We then join Banner making home visits with his social services clients, where we find out: he's not a very nice guy, and reality has started shifting. These changes involve some rather freaky stuff: women carrying infant children in pouches of skin that hang below their chins, the letter "o" gets replaced by a "klik" sound in everyone else's speech, people can be seen floating around in bubbles, men have three eyes, and so on. It's the kind of thing one might expect from an hallucinogenic drug trip. And in fact, various characters (Banner does find others who seem to be aware of what's happening) compare the situation to a bad trip. Also a bad sign.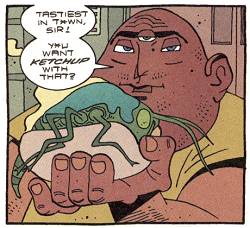 There's an old rec.arts.comics saying that "any time the characters in a comic start to complain about the plot, you're in trouble". That happens several times in Tattered Banners, and not just the drug-trip comments. At one point Banner likens the situation to a "Twilight Zone" episode. Yup, that's the idea, innit. Banner's repeated efforts to resist the advancing changes, and find havens of sanity, finally lead to him complaining, "It wasn't fair! I couldn't have found salvation, only for it to be ripped away from me again!" Yup. Just like last issue.
The story doesn't go on long enough for this to actually get tedious, but that's mostly because of the continuing changes in reality, the new weirdnesses we encounter as Banner continues his increasingly desperate search. And we also see him changing… not like the world around him is, but changes in his priorities and attitudes, as the mundane normalcy he's taken for granted is replaced by a hostile, impossible world. I would've liked to see a bit more of that development and growth, though.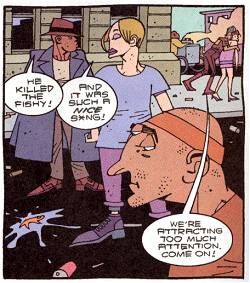 Mick McMahon's art presents these changes effectively. His art is far from realistic, even at first when things are "normal". (He calls to mind a clean-line version of Ted McKeever, with perhaps a bit of Keith Giffen. I don't know how the creative team for this series came together, but I'll wager that Giffen, who co-wrote the first half of it - was a key to it clicking into place.) On one hand, this makes it less obvious to the reader what's going "wrong", and makes it harder to mourn the loss of a "normal" world that never really looked that real to begin with, but it also makes the encroaching absurdities easier to swallow. For example, a third eye might just look silly if done realistically, but it looks almost believable on McMahon's faces. And if we can accept it, how well can Banner resist it?
I was a bit disappointed with the ending. It wasn't what I expected, but neither was it particularly imaginative or original. It wasn't very satisfying, but I suppose it wasn't intended to be. But at least it wasn't an "…and then I woke up" conclusion.
I picked this series up at a deep discount, and read it all at once, which probably lessened my disappointment with it. Paying $11.80 and waiting three months for the conclusion might have been a bit much. Also, the lack of raves over it when it came out lowered my expectations, otherwise I might not be so forgiving. But if you get into weirdness, and like seeing what sorts of bizarrity Grant, Giffen, and McMahon come up with, there's some fun stuff here.