David Kelly
black and white
Yell Comics, DK Press
I'm a bit upset with myself for not catching on to this strip sooner. Imagine: a world-wise, seen-it-all net.reviewer like me, going all the way to Chicago, stumbling across a dealer table at the con there, and thumbing through a book collecting a strip that's (duh) featured on the WWW!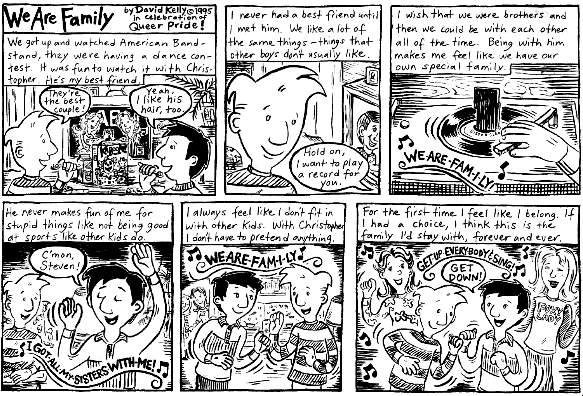 The strip is about a 10- or 11-year-old kid named Steven, and the trials and tribulations of growing up in a typically non-Brady American family during the 70's. Steven's a kind of everykid, dealing with his brothers and sister, his divorced parents, friends, school, etc. with the contradictory combination of sadness and joy that only a pre-teen can pull off. One thing that differentiates him just a little from most kids is that he's gay… though he hasn't realised it yet. But his concerns about friendship, family, and finding his way in life are pretty universal.
Steven's Comics is somewhat reminiscent of Lynda Barry's Ernie Pook strip (i.e. fictional "autobio" by a kid from the cartoonist's generation), but the art is considerably more accessible, and the tone is more lighthearted… but still bittersweet.
This issue (#3) reprints 29 of Kelly's 6-panel strips, and is well worth the $3 I paid for it. In fact, I'm going to send off an order for #1 ($1) and #2 ($3). To see more samples of Steven's Comics, visit the Open Prairie Syndicate site (where you'll find some other cool strips as well).