Jon "Bean" Hastings
5 issues, black and white
Kiwi Studios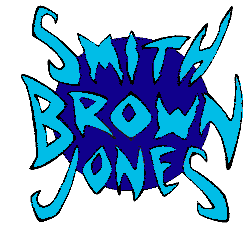 Who says there's not enough good humour comics available these days? Well, I generally do… but Smith Brown Jones is one of the exceptions. It's a reviewing cliché to say it, but this Eisner-nominated series had me laughing out loud, several times per issue.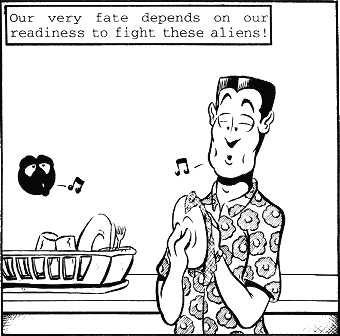 Smith Brown Jones (the star of the story) is an alien accountant, assigned to live on Earth observing humanity, and to evaluate the planet for possible membership in the Interstellar Congress. He hides in plain sight. Sure he's got light green skin, pointed ears, only three fingers on each hand, and a proclivity for wearing Hawaiian shirts, but people don't pay attention to things like that. Pops, the little floating orb - with eyes and a mouth - that serves as his computer and friend is a little more difficult to explain, but Jones manages. (You can probably guess how he picked his name.)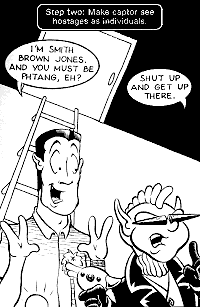 It doesn't take long after the series begins (the first issue is primarily a rather tongue-in-cheek set-up and introduction sequence), that Jones' relatively carefree everyday lifestyle is interrupted by complications, in the form of other aliens and robots, with ray guns. What's an accountant to do? With help from his friend (girlfriend?) Raz, his pal Pops, and a few unlikely allies along the way, Jones deals with the situation hysterically. He strikes me as a kind of Arthur Dent with a sense of humour… befuddled at the sudden chaos in his life, but not cranky about it.
This rather comic comic is the work of a guy who goes by the name of "Bean", a childhood nickname. Despite the association that name has with comedian Rowan Atkinson's "Mr. Bean", he is not British. Nor is he (as the imprint name "Kiwi Studios" would suggest) a New Zealander. Jon Hastings (as his "artistic licence" reads) is a Californian. But he's clearly a big fan - and adept generator - of the quirky, wry humour the British are notorious for (e.g. Monty Python, Douglas Adams, the aforementioned Mr. Atkinson).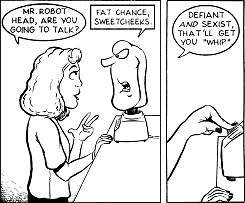 The art is perfect for this tale. It's cartoony, but sharp. You can tell that Bean has put a lot of care and practise into the character designs, and it was no surprise that he works professionally in commercial art; this is a very professionally done (albeit zany) publication. There are a lot of heads-and-shoulders panels, but plenty of creative page layouts and perspectives to keep things visually interesting.
Even the text pages have "laff riot" tendencies. His account of "The Tuber of Doom" (a potato that appears in the 2nd issue, with the apparent ability to kill - in the real world - whomever it was named after) was priceless.